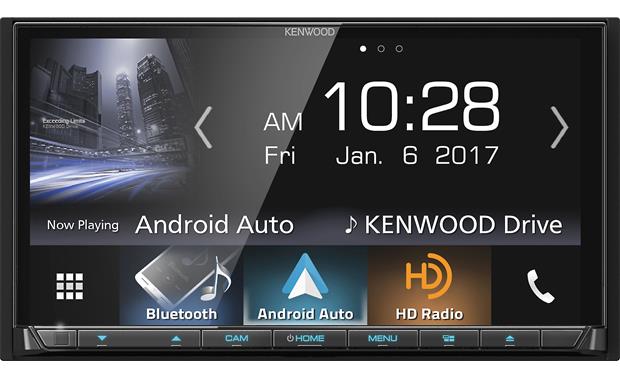 6.95 inch Wide VGA Color LCD Display with LED Backlight
Glossy & Capacitive Touch Panel
Motorized 7 Step Tilt Angle Adjust
Touch Panel Control, Variable Key Illumination
Built-in HD Radio
Bluetooth Built-in (Hands-Free Profile / Audio Profile(A2DP) / AVRCP1.5 / SPP)
Android Rapid Charge
2 RCA Video Inputs for Rear View Camera(Parking Guide Line) & Front View Camera
iDatalink Maestro RR  (sold separately)
When an Automotive Data Solutions iDatalink Maestro RR is connected to a compatible KENWOOD receiver, it provides a seamless interface with factory infotainment features such as Satellite Radio, USB Media Player, Bluetooth hands-free and music streaming. Vehicle information such as HVAC, performance information, and TPMS can also be displayed.
Dash Cam Ready   (sold separately)
Dash Cam ready receivers are compatible with the DRV-N520 Dash Camera. The camera records in full HD video capturing every event that occurs on the road ahead, and also provides safety features such as collision avoidance. The DRV-N520 is controlled by a KENWOOD or eXcelon Dash Cam Ready receiver allowing video captured by the camera and safety prompts to be displayed on the multimedia receiver screen.
Was $699.99